Welcome to the FAITH Wiki!
---
129 articles, 1 active users, 524 files in this wiki.
---
Chat with FAITH fans!
Our wiki has a Discord group! Join us!
Welcome
Welcome to the Faith Wiki! Please note that this wiki is still under construction. Many articles are not finished and some pages almost completely lack information. But, did you come here by chance, or did you come back... to finish what you started?
---
If you came here to read the notes, go ahead to 
Notes
.
About FAITH
Faith series is a series of pixel horror games inspired by the era of MS-DOS, Apple II, Atari, and ZX Spectrum classics. The games were developed by Airdorf. Currently there are 2 installments.
---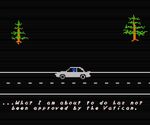 Plot: On September 21, 1986, two priests arrived at the Martin Family home in rural Connecticut to investigate an apparent case of demonic possession. Only two people would leave the house alive.
Haunted by nightmares and searching for answers, a young priest travels down a dark highway to return to the cursed house a year later.
Blogs
Articles needing attention
Unfinished:

Latest exorcisms
Track the most recent changes to the wiki on this page.
No changes during the given period match these criteria.